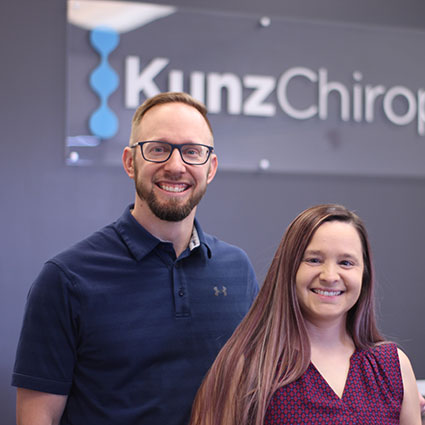 For fifteen years, Dr. Curt Kunz has been providing outstanding chiropractic care in his hometown of West Omaha. He and his wife Danielle run Kunz Chiropractic with a passion for helping people who want to work, stay active and enjoy their lives. It may sound cliché, but we really do treat patients like family here.
Focused Chiropractic Expertise
Dr. Kunz knew as a high school junior that he wanted to become a chiropractor. To learn as much as possible about the human body, he attended the University of Nebraska at Omaha (UNO), earning his Bachelor of Science in Human Biology in 2003.
He then attended Cleveland Chiropractic College in Kansas City, completing their gruelling fast-track program to receive his Doctor of Chiropractic in 2006. He and Danielle came home to Omaha and opened the practice that same year, with the mission of providing the best chiropractic care available.
To do that, Dr. Kunz focuses exclusively on
chiropractic adjustments
and offers a variety of techniques, which he combines as needed to provide tailored care for each patient. This "Kunz Package" includes:
Activator® Methods: Instrument-assisted adjustments that are great for people who are nervous or hesitant about manual adjustments, as well as for extremity adjustments (knees, ankles and shoulders)
Diversified: Traditional, hands-on adjustments
Gonstead: Thorough analysis and precise, accurate manual adjustments
Thompson drop table: Allows for very precise adjustments
Precisely-targeted chiropractic adjustments can correct the underlying cause of nervous system interference, allowing your body to heal itself naturally. Dr. Kunz doesn't rely on gimmicks and gadgets—he offers pure chiropractic and strives to be the best at it, to help you achieve your highest potentials for health and wellness.
Walking the Talk
Dr. Kunz stays healthy by eating well, remaining active and getting a chiropractic adjustment about once a week to keep his nervous system functioning as it should. We'd love to help you feel your best this year, too—contact us to schedule an appointment.