Meet Dr. Curt Kunz
Choosing Chiropractic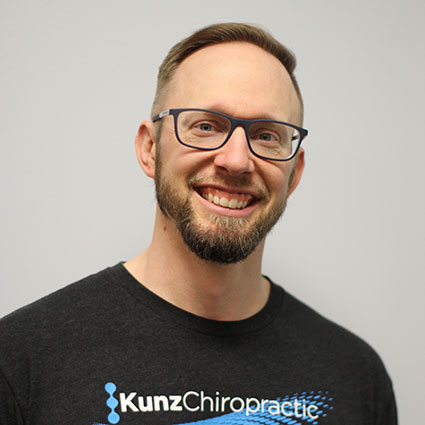 In my youth, I was always sick or having aches and pains. My uncle had a chiropractic practice in another state. When he would visit, my mom would ask him to adjust me. I was always afraid before the adjustment; after each time, I would be like, "that's it?" That's how my chiropractic journey began.
In my junior year of high school, we had to do a research paper on a career path. The only thing that came to mind was my uncle, so I decided on chiropractic for my project. While researching, I discovered that chiropractic is a natural way to stay healthy.
I was excited to continue working on my project. Not only did I find a rewarding career, I got very good grade on the paper!
An Education in Chiropractic and More
After HS, I enrolled at UNO – the University of Nebraska at Omaha. I started my undergraduate work while working full time. My next step was to enroll at Cleveland Chiropractic College in Kansas City, my uncle's alma mater. The program was grueling, but I learned more about the human body than I thought possible.
After earning my Doctor of Chiropractic degree, I returned to Omaha to start my practice.
The Practice Today
I came back home on fire and ready to serve the masses. That passion has only grown over the years. It is very fulfilling knowing that I have helped so many people achieve better health and wellness.
It's great to start out with a belief and personal experience in chiropractic. Watching all my patients, family members, and children benefit from chiropractic care makes it all worthwhile.
My passion keeps me striving to improve myself, my family and my practice members lives every day.
EXPLORE CHIROPRACTIC »
A Balanced Chiropractic Lifestyle
My family includes my wife, Danielle, and my two girls ages 8 and 4. I really enjoy spending time with my children. On any given day, one or both can be at the office with me. My biggest hobby is volleyball; I still play in various leagues and tournaments. I also coach club volleyball each season. Participating in community events, such as speaking for a group of people, helping at church or donating time is very rewarding for me.
My approach to staying healthy is very simple. I eat sensible, enjoy working out, keep a positive outlook, and bring it all together with a chiropractic adjustment around once a week. I choose to stay away from medications because I believe health comes from the inside. Our body was made to be healthy; it just needs the proper resources and support to do so.
Book an Appointment Today
We would love to help you get back to living life to its fullest. Are you ready? Contact us today, (402) 614-5677; we're here for you.


Dr. Curt Kunz | (402) 614-5677