New Patients at Kunz Chiropractic
One of the great things about our office is how friendly and personable our staff is. We want you to feel comfortable and relaxed from the start of your visit until the end. If you have questions, please feel free to ask!
The Initial Consult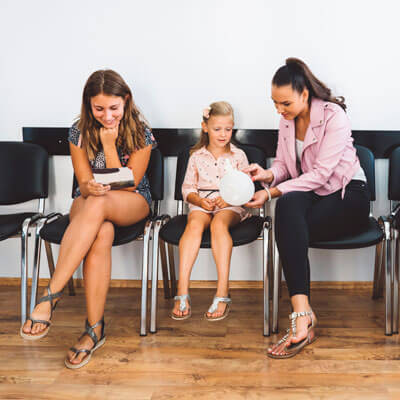 On your first visit to our office, you can expect to be greeted in a friendly way. We ask that you complete a short health history before your consultation with the doctor.
Dr. Kunz will then sit and talk with you about what's going on. What problems do you have; how long has it been going on, how it's affecting your lifestyle, etc. The more information he has, the better he's able to address your concerns.
Next, Dr. Kunz will do a thorough physical examination. These are a few short, comfortable tests designed to give the doctor information about the function of your body. Also, some palpation will be done to look for restrictions in your spine or area of complaint.
If necessary, x-rays are taken to complete the information gathering. X-rays are a great source of information about the alignment of your spine, along with how your spine is aging. We have x-rays on site for your convenience.
After answering any additional questions, you will be scheduled for your next appointment. The initial visit is usually 60 minutes or less; typically, there is no adjustment at this visit. Dr. Kunz prefers to examine all the findings before adjusting a person for the first time.
This is to determine what course of action will be the best for your problem and give you the best outcome. Your health is important; we won't rush to provide treatment without having all the information we need.
When You Return
On your second visit, Dr. Kunz will go over in detail all the tests performed and explain any x-rays that were taken. He will discuss your care plan, and if chiropractic care is necessary. After Dr. Kunz answers any questions you may have, you will be ready to receive your first adjustment. This visit is typically about 15 minutes.
Future Office Visits
At each office visit, Dr. Kunz will check for any changes since your last visit. If needed, a chiropractic adjustment will be done. No matter how busy the doctor is, he is always available to address any health questions you may have. Providing feedback on how your care plan is going is also valuable. This visit is usually 5-10 minutes.
Financial Arrangements
We are dedicated to keeping health costs low. We don't want our patients to forego treatment for financial reasons. If you have insurance, Danielle will verify your benefits and discuss coverage details on your second visit.
For self-pay patients, there are many options available. Danielle will explain them fully, so you can make an informed decision.
Ready to Book?
Ready to begin your journey toward health? Contact the West Omaha chiropractor who is ready to help!
CONTACT US »

New Patients at Kunz Chiropractic | (402) 614-5677